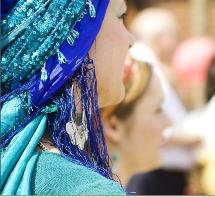 My fascination with Egypt led me to start learning Egyptian dance about 21 years ago. Since then, I have studied with teachers, performers, and musicians both in the UK and in Egypt. I have performed at many events including the 'Rhythms of the World' festivals in Hitchin, at the Lord Mayor's Celebrations outside the Norwich City Hall, and at St Albans Fuze Festival with Sara Kahan and Guy Schalom's Baladi Blues Ensemble.
My style of dance
As a dancer, I combine fluid elegance with with fiery, intricate hip movements. I have a strong technique and aim to pass this onto my students. I believe a strong foundation gives a dancer the freedom to explore personal creativity whilst retaining integrity and meaning. I really enjoy helping students develop their own style and self-expression, and love seeing dancers blossom as they lose any shyness and revel in the joy of the moment. My training as a Dance Movement Psychotherapist also provides a rich source of material to experience and enjoy with my students.
Apart from regular classes I am available to give workshops or demonstrations at local community events, at schools, for professional network groups and corporate events. I also perform at hen-nights and at mixed private celebrations including weddings and corporate events.
Nile School Shakers
Since 2014 I have worked with musician Tim Garside taking Egyptian dance and music into schools to bring the Ancient Egypt core curriculum topic to life. Check out the website for details.
Fundraising fun for MS Trust and Breast Cancer Care
I occasionally hold fund-raising events for two charities close to my heart: MS Trust and Breast Cancer Care. I have organised events which have so far raised over &pound3k. This included a 24-hour Shimmython in January 2011: we were even on Anglia TV!
Professional performances
I was a regular member of 'Tabeeya', a semi-professional group which shared this exciting and dynamic dance form at our own shows and festivals and events.
Read my 'Comet Country' interview from The Comet newspaper for more on what makes me tick: "It's good to wobble"
See me in action at my hafla in 2011 improvising to live music from percussionist Tim Garside and accordionist Elgamal Elkordy: my favourite baladi piece - Ya Della Alla Kifuk, which I'm told means you flirt too much!
In addition to being a Registered Dance Movement Psychotherapist with ADMP UK, I am a qualified Keep Fit Association teacher, holding the L3 Teaching Exercise and Dance to Music to Adults. I have a DBS and PL insurance.
See my Performance & Events page for details of our forthcoming performances.